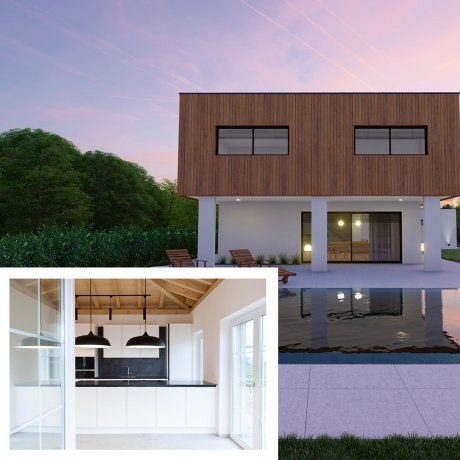 We are wood-processing company offering new and innovative concept in producing eco-friendly and high-quality prefabricated wooden houses for local and international market.
The design of the houses is customizable so it provides multiple and adaptable house models with beautiful designs, that can be modern or classic houses. The company provides a 10-year warranty on the quality of its products and in line with best construction practices.
The company carries out its production activities in the factory situated in Radac village along the main road from Pejë/Pec to Montenegro. The main factory was built in 2015 while an annex building was added in 2019. The factory possesses around 2800 m² organized mainly for production processes where the wood processing machinery and equipments  are located. 
From us to you, our client!
We are a company that specializes in producing pre-fabricated wooden homes. Our homes are built with high-quality materials and are designed to be both durable and aesthetically pleasing. At our company, we take great pride in our work and are dedicated to providing our customers with the best possible products and services. We understand that your home is an important investment, and we want to ensure that you are completely satisfied with your purchase. Whether you are looking for a small cabin or a large family home, we have a wide range of designs and styles to choose from. Our team of experts is always available to answer any questions you may have and to help you choose the perfect home for your needs. Thank you for considering our company for your house-building needs. We look forward to working with you and helping you create the house of your dreams.
A PERSONALLY TAILORED EXPERIENCE FOR EACH CUSTOMER
This Website, Greenhouse.Immo Was Created And Maintained With The Financial Support Of The European Union. Its Contents Are The Sole Responsibility Of Green House And Do Not Necessarily Reflect The Views Of The European Union'​